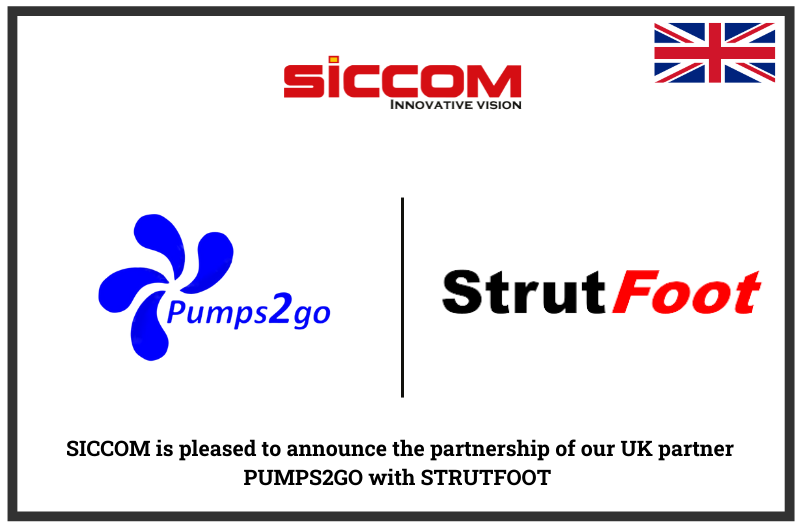 We are pleased to announce the purchase of our exclusive UK partner PUMPS2GO by the STRUTFOOT Group. This operation will allow Steve RICHARDS' group to develop its activities on the condensate pump market. The STRUTFOOT Group will benefit from the solid and loyal relationship between SICCOM and PUMPS2GO for several years now.
This acquisition also represents a real development opportunity for SICCOM. Indeed, it will lead to an increased presence of SICCOM products in point of sales all over the territory.
The two company directors have communicated about this:
The Managing Director of STRUTFOOT said: "The Pumps 2 Go brand and John EMM have been active in the condensate pumps market for many years; it was an obvious choice given the quality and experience it brings. The exclusive contract with SICCOM will enable us to expand our business activities into the pump market and provide the service synonymous with the STRUTFOOT brand. We are excited to be working with John as the new technical Director and are very much looking to forward to expanding the SICCOM condensate pump range and sales."
John EMM said also: "I am delighted with the recent acquisition and look forward to working with the STRUTFOOT team. PUMPS2GO will now be equipped to offer its customers a comprehensive sales coverage across the country including Eire. The collaborative approach will support both companies in forging ahead with their medium to long term objectives and subsequent growth."
SICCOM wishes the best to JohnEMM and SteveRICHARDS teams for this new adventure!